Building a personalized scenario to make it real – Calgary
Please note: Brand names of popular sites are used in these scenarios for simplicity's sake. There is no intent to comment on or make suggestions about the privacy practices of the named sites.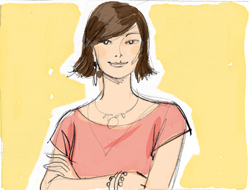 Louise is a stylish 21-year-old college student who likes to meet people and try new things. She is active online, where she buys trendy clothing and concert tickets, and keeps in touch with friends through updates and photos on her Facebook page.
She is also putting herself through college by making jewellery and selling it online. In fact, Louise's jewellery business has been doing so well that her client list has grown and she has recently expanded her product line.
As her small business flourishes, Louise realizes that she needs to start handling her electronic documents more professionally, and she needs help to do that. However, she is not a computer expert, and has little time to focus on technical problems.  Lately, though, she has been hearing a lot about the advantages of cloud computing, and wonders if that is one way to get her hands on useful new business tools.
Although she doesn't realize it, Louise is already using cloud computing services. She has a Gmail account for her business communications, uses Flickr to store photos of her jewellery creations, and accesses her business bank account over the web through online banking. Now she is also considering using a cloud address book application to keep track of her growing lists of clients and suppliers, and is looking at FreshBooks for online expense tracking and invoicing.
But while Louise is interested in using these cloud services, she has some concerns. She doesn't understand the technology and feels uncomfortable with unfamiliar terms such as "virtualization".  
She is also puzzled about the business model, and wonders how service providers will manage her information. For instance, she worries about whether she will be able to get access to her data whenever she needs it. She has heard that data could be stored outside Canada, which she feels could have legal implications for her business and personal data. She also wonders how her information will be protected against hackers and malicious software. 
Report a problem or mistake on this page
Date modified: