Privacy activity sheets for kids
Kids today go online earlier in life than ever before – which means that parents should start talking about the digital world and online privacy much sooner than they used to. We have created these six activity sheets to give parents and educators a fun way to get the conversation started. The sheets appear in order of difficulty, ranging from very simple (a colouring page) to more difficult (a simple cryptography activity).
Colouring Page
View text version

 

The Internet is made up of computers all around the world, all connected to each other. We can use the Internet to talk to our friends and family, watch videos, play games and lots more! Colour in this girl and the fun pictures she is posting on the Internet.
Maze
View text version

 

When you post a picture online, you never know just what's going to happen to it. Follow the picture's path through the Internet maze and see where it ends up!
Connect-the-Dots
View text version

 

Connect the dots! When you post your favourite things and places on the Internet, it can add up to a picture of your life you might not have intended to draw.
Spot-the-Differences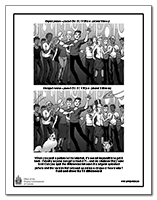 View text version

 

Original picture – posted Oct. 21, 11:25 a.m. (shared 5 times)

Changed version – posted Oct. 21, 1:37 p.m. (shared 326 times)

When you post a picture to the Internet, it's almost impossible to get it back. Virtually anyone can get a hold of it… and do whatever they want to it! Can you spot the differences between the original uploaded picture and the version that showed up online a couple of hours later? Find and circle the 13 differences!
Tagging Page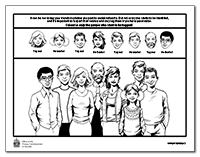 View text version

 

It can be fun to tag your friends in photos you post to social networks. But not everyone wants to be identified, and it's important to respect their wishes and only tag them if you have permission. Colour in only the people who want to be tagged!
Cryptography Page
View text version

 

Cryptography lets you send private messages to your friends online. But it can also be used with a pen and paper! In this code, every number represents a letter. So if there's a 1, it means A, 2 means B and so on.

Can you use the code above to solve this riddle?

Now, use the same code to encrypt and send a secret message to a friend!
Report a problem or mistake on this page
Date modified: