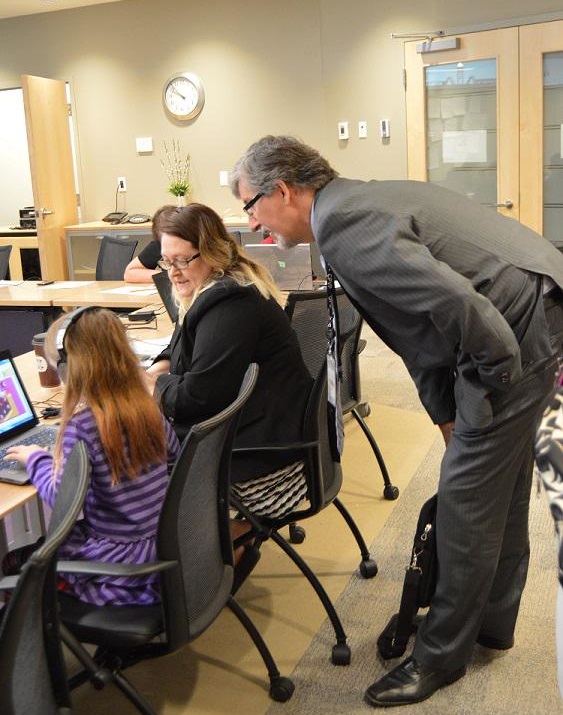 Privacy Commissioner of Canada Daniel Therrien pops in on Global Privacy Enforcement Network Children's Privacy Sweep where a few kids are on hand to help.
A children's privacy sweep with no children? In the words of cartoon curmudgeon Charlie Brown, "good grief!"
. . . and that was roughly genesis of the Office of the Privacy Commissioner of Canada's (OPC) first ever Kid's Sweep.
Nine youngsters, the offspring of OPC employees who also participated in the Sweep, descended on 30 rue Victoria one early May morning during International Sweep Week.
Fueled on promises of pizza and cookies, the seven to 13-year-old boys and girls parked themselves in front of the laptop or tablet of their choice. Their job? To interact with their favorite apps and websites, thus recreating the user experience under the watchful gaze of their parents who took notes on how they navigated the privacy settings, or lack thereof, as the case happened to be for some sites.
The following is an edited transcript of what the kids, and their parents, had to say during a post-Sweep debrief before the smell of hot cheese and pepperoni wafted into the room and snatched their attention.
Did you have fun?
"Yeaaah!" (Kids shout in unison.)
Was anything hard or frustrating?
"It was hard to read privacy policies; they were really long and boring."
Was it hard to sign up for some of the websites?
"If you are under 13, you are redirected to (the kid's version of the website.)" Mom proceeded to explain that her son nonetheless managed to find a work-around.
What were some of the personal questions the website or app asked you?
"Where do you go to school? What's your address?"
"It asked if you're a student or a teacher."
"It asked what gender you were."
"Date of birth."
"(On one website), if you typed in your real name, it wouldn't take it or any short form of the name."
"My photo." (Mom added: "I wouldn't let him. I shut it down real fast.")
"It asked for what grade you were in."
"(One website) asked for your picture but we just used a picture of a penguin that was already saved on the computer." (Mom added: "But then it encouraged you to use a real picture.")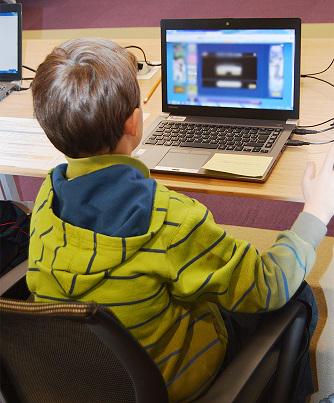 Did you always understand what the website or app was asking for?
"When I was working on (one website), I thought there were games made by other people that you could play but it was just shopping. That's where there was the long and boring parts."
Did any websites or apps tell you to go get a parent to help you?
"Before you were able to get on (one website), they send an email to your parent." Mom added: "And the parent had to confirm."
"On one website there's a privacy mode so if you're under 13, you can't change it. If you want to change your age, you have to ask a parent by email."
Did you ever click on something that led you to a totally different website?
"I was on (one website) and there was this little thing on the top of the page that said 'are you a boy or a girl.' It didn't really look like an ad but it was just like a little thing with a picture and so, of course, we clicked on it and it went to another game website and it showed you a trailer." Mom added that it was "teen rated" and included a warning that the content contained "violence, blood, partial nudity and alcohol."
If you had to sign up for an account, did the website or app make it easy to delete your account when you were done?
"I was on (one website) and there was an option to delete the account and it deleted right away."
Did anybody have trouble?
"A little bit. You had to email the company to delete it."
----
Days after the Kids Sweep we got some great feedback from one of our parental sweepers who quipped that her kids are now tattling on each other for failing to read privacy policies. She added:
"They had a really good time and learned a lot about thinking critically when it comes to their personal information. If the result is that they make one brighter choice about their own privacy, then it was 100 percent worth it to me."
It was this very comment that inspired one of our post-Sweep follow-up activities. The OPC has drafted a classroom activity for Grade 7 and 8 teachers across Canada based on our 2015 Kids Sweep.
We've simplified the Sweep form used to assess the privacy communications of apps and websites and are encouraging teachers to conduct privacy sweeps with students using the forms as a way to kick off a discussion about online privacy and the protection of personal information.
Alone or in groups, we are encouraging students to "sweep" their favorite apps and websites, to learn how to read privacy policies, to learn about tracking, the different types of personal information that might be collected and to discuss their observations with their teacher and peers. We've also provided a take-home tip sheet dubbed Pro Tips for Kids: Protecting Your Privacy for students and their parents.
Note to teachers: you can find the classroom activity on our website. As for parents and guardians, if it's not something your kids are learning in school, think about adapting the lesson plan as a rainy Sunday afternoon activity!
Intimate, controversial or embarrassing photos and comments can have a lasting impact on a person's reputation. Today, digital literacy as is as important as learning your ABCs and kids who understand and implement safe online privacy practices are less likely to make the sort of mistakes that could haunt them in the future.
Click here for more on the results of this year's Children's Privacy Sweep.