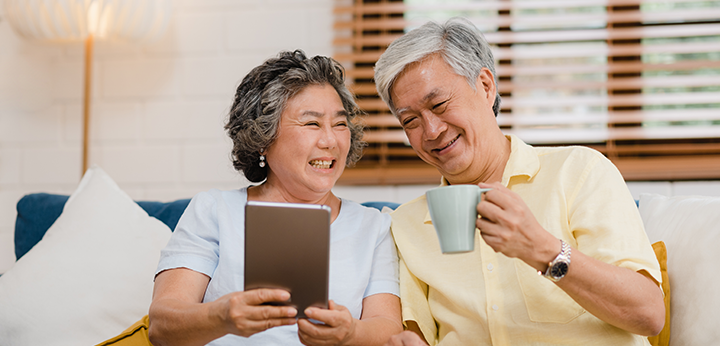 Seniors are no different than most. They are on the Internet every day making purchases and researching information, but they do remember a time when going to the store or library was as simple as walking in, getting what you wanted and heading out the door. The only footprints they left were in the snow.
On the Internet, your digital footprints can be everywhere. This can include personal information such as your name and address, as well as photos and videos of you and those you care about.  
We have the same message for everyone online: Almost everything you do can be tracked or compiled to tell somebody something about you. But since it is National Seniors Day, we thought that we would offer a few tips to help seniors stay safe online.
1) Give out as little information about yourself as possible. 
Every year, thousands of people are victims of identity theft. Your name, date of birth, address, credit card, Social Insurance Number (SIN) and other personal identification numbers can be used to open credit card and bank accounts, redirect mail, establish cellular phone service, rent vehicles, equipment, or accommodation, and even secure employment. If you are a victim, the consequences are serious.
To help protect yourself from being a victim of identity theft, give out as little information about yourself as possible. If you are being asked for your birthdate, email address, or other details, ask why. Don't provide it if you don't have to.
2) Protect your inbox, computer, and mobile devices
Step number one is to install antivirus and security software and keep this software updated.
The good news is that your Internet browser, whether it's Internet Explorer or Google Chrome, has built-in tools to help protect your personal information. Take some time to learn about the security and privacy settings in your browser and keep it up to date.
When surfing on public Wi-Fi, avoid sensitive transactions such as online banking as the connection is not secure and others may be able to capture the data you are sending.
It's also important to choose a secure password.
3) Protect yourself from spam
Spam can be annoying the way it clogs up your inbox, but in some cases it can actually pose a real threat to your privacy.
Don't open e-mails from an unfamiliar person or organization. Deleting mail from unknown senders can avoid a host of future problems.
If you do open a message, don't reply to spam as that can confirm your address as being active and cause you to receive even more spam! For the same reason, never click on a "remove" or "unsubscribe" link in a suspicious spam message. You may be unwittingly "subscribing" to receiving even more spam.
Never click on links or attachments in an e-mail if the message is suspicious. They may be harbouring malicious software (malware), which, if unleashed, can jeopardize your privacy or compromise your device.
4) Be vigilant while using social media
If you use a social media site, chances are you are putting personal information online. Once it's out there, you may not be able to control what happens to it. This could pose a risk to your privacy or even make you vulnerable to identity theft or fraud.
Use the privacy controls available. Sites like Facebook provide you with some level of control over your personal information. For instance, you can restrict who can see your full profile and photos of you, and who can find you in a search. You can also hide your list of friends from people who find you through a search. Experiment with them to find what works best for you. But remember, whenever you post something online, it can live on for a very long time. People can take pictures or screenshots of what you post, and people can keep sharing it—with people who aren't even on your friends list—even after you've deleted it. It's important to think about the content you're posting before you share it online.
5) Be careful while shopping online
Online shopping has become an easy and convenient way of getting the items you want delivered right to your door. That can be a really great thing, especially for those with mobility issues. However, there are some things to keep in mind. When doing any online transaction, always ask yourself:
What information in being collected?
For which purpose is it being collected? Is it necessary for the transaction?
Is it being shared with anyone else?
What are the consequences for me? Are there any risks?
You should find answers to these questions in the website or email provider's privacy policy, terms of use agreement or other privacy communications, which are required to explain the company's collection, use, disclosure and safeguard policies.
If you are still unsure, contact the organization's privacy officer directly. Don't provide your personal information, especially sensitive information such as health or financial information, if you don't feel comfortable with the site's practices.
About National Seniors Day
National Seniors Day is celebrated annually in Canada on October 1st. It coincides with the United Nations International Day of Older Persons, and it presents an opportunity to acknowledge the life-long contributions our nation's seniors have made and continue to make to their families, communities and society.
The Office of the Privacy Commissioner of Canada is committed to helping improve digital literacy of Canadians. For seniors, our goal is to raise awareness of privacy issues and rights, and provide guidance and information to help them reduce privacy risks. These tips were taken from our Privacy presentation package for seniors. Learn more at priv.gc.ca/seniors.