The Personal Information Protection and Electronic Documents Act (PIPEDA)
Personal information, coverage, complaints, principles
Accountability, identifying purposes, consent, limiting collection, limiting use, disclosure and retention, accuracy, safeguards, openness, individual access, challenging compliance
Law, related legislation, regulations
Interactive search based on type of information and organization
Guidance for businesses, specific issues, interpretation bulletins
Submissions to parliament, recommendations
Features
Privacy Guide for Businesses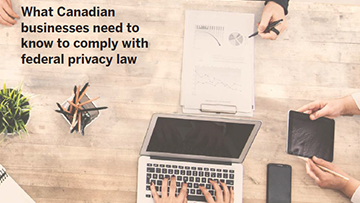 Learn about PIPEDA and find information to help businesses understand and comply with the law.
Ten privacy tips for businesses
Find tips to help businesses respect privacy, and a graphic version you can print and post.
Report a problem or mistake on this page

Error 1:

No selection was made. You must choose at least 1 answer.
Date modified: